The bamboo way
My path through world bamboo flutes
I am Thomas Goulpeau, born in 1981.
The call for travelling brought me to the flutes
It started in 2003 during a trip in India where I first encountered the Bansuri haunting bamboo transverse flute an instrument which from there I've always kept in my backpack or bike panniers. I've been playing and making this flute for a decade.
In the beginning, I was offering my flutes from time to time then exchanging and finally selling them to get the small money I needed to keep going.
After a few years with this simple life, the will came to get deeper into the understanding of the flute construction. Thus I settled for a few years in west France and started to build up the "atelier Chikudo".
In those years, I diversified my creations constantly seeking for new flute traditions around the world learning by myself how to play and make them; all from bamboo.
This path naturally led me up to the Japanese Shakuhachi which I discovered on my own both playing and making for a year before starting to study it more seriously.
Varanas in India
My entrance gate into the flutes
"Into the wild"
Bicycle trip in Japan 2010
From that time followed 2 years of self teaching on Shakuhachi with several manuals and guides entering slowly in the aesthetic of Japanese music. Getting more and more interested in Japanese culture, I decided in 2010 to encounter it on a 3 months bicycle trip from northern Hokkaido down to southern Kyushu.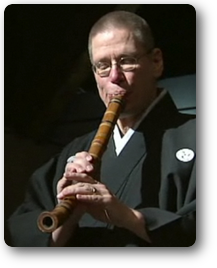 In 2013, facing the limits of being a "ronin" (masterless) shakuhachi player, I started to learn with my master Gunnar Jinmei Linder who is representing the Chikumeisha branch of Kinko-ryu school in the style of the great master Yamaguchi Goro.

I decided then to focus my work as a maker on studying the construction of the Shakuhachi sensing a need of complete dedication to penetrate deeply this fine art. I then had to let the other flutes behind me to go further (which was not that easy !)
This enables me now to study seriously the instrument; its making but also its playing, the music, its culture and this form of spirituality beside.
In 2014, I settled with my family in a preserved area of south west France in Figeac a nice and quiet middle-aged town. Guided by the need of being close to a natural and historical environment favourable to creation.
Building flutes from bamboo have always represented for me a meaningful activity. Searching for harmony and right intonation being directly linked to development of inner life. In this way, the link between Shakuhachi and Zen Buddhism extends and deepens my personal path in this direction.
In 2016, I felt the need of opening this solitary practice and sharing my passion. I started with the support of my teacher to offer guidance to beginners through private lessons and workshops thus placing me in a position of transmission. I am still a student but with strong enough bases to be able to transmit them.
Today, after 15 years travelling through world flutes music, I am lucky and grateful to have my professional activity in accordance to my passion and ideals, working at my own pace and respecting my love for nature.
I thanks all of those who supported me in this journey.
My dream now would be to create my own bamboo grove to complete the whole process of turning a simple piece of bamboo into such a great instrument !