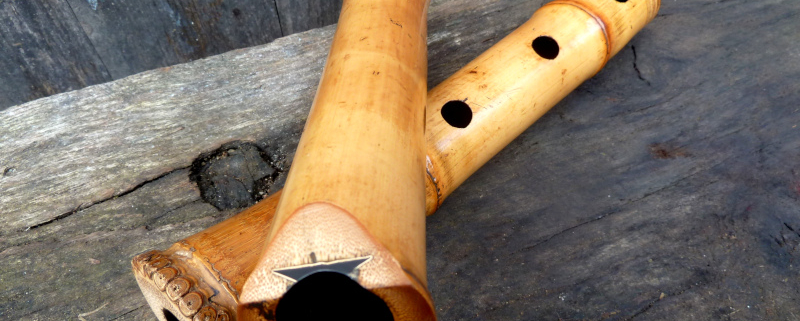 Kinko Ji-ari Shakuhachi 2.1 in B "CHIKUYŌ" – Restored Chikudo

This instrument which I exchanged with a customer was made by Ebinuma Chikuyō and is probably dated before WWII. This shakuhachi has been clearly modified on its holes and bore with quite bad results :
It was completely dis-balanced and out of tune. I had to reshape the bore which was globally very thin but with some critical spots being too large (I could then confirm that the bore had been reshape subsequently with Epoxy).
The bore is finally rather thin giving a clear and bright tone supported by a good volume due to the bigger holes.
It is a good Ji-ari shakuhachi of an intermediate level, flexible and reactive suiting well both traditional and contemporary playing.
Restored Ji-ari Shakuhachi
Japanese Madake – 2 pieces – 7 nodes
Length :  540 mm
Weight :  483 gr
Diameter at utaguchi  : int : 22 mm – ext : 36 mm
Diameter at foot : int : 20 mm – ext : 54 mm
Holes diameter : 11-12 mm
Black urushi lacquer
Rattan rings
Kinko horn inlay with gold

Listen :