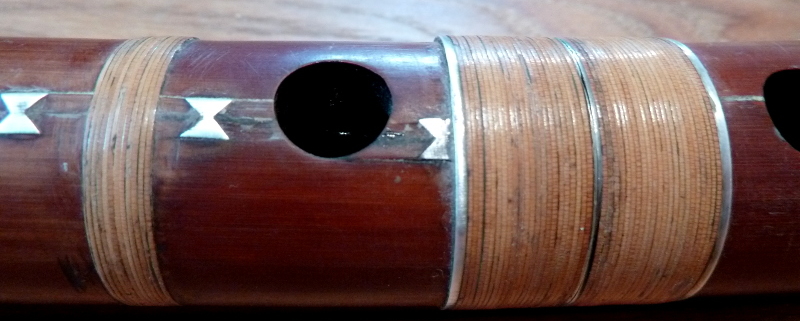 Old kinko ji-ari shakuhachi 1.8 in D – restored

This is a beautiful old kinko shakuhachi (around 80 years old) from a maker not identified yet; It has 3 hanko (signatures). The bamboo has a very nice patina with dark brown colour typical of ancient flutes. It is quite a well made flute with its silver and rattan rings at the joint. Several repairs from different times (inlaid rattan bindings, silver wedges…) are testimonies of a tumultuous life and a good value which needed care. The whole aesthetic being very wabi-sabi !
Unfortunately, its former owner (a professional player) had mistreated it by modifying its tuning both on the tone-holes and the bore with epoxy resin and other bad materials…
I had to completely re-tune it to its original voice in respect of the traditional techniques with ji and urushi.
The result is a very fine shakuhachi powerful in volume, well balanced in tone and with an ancient dark timbre very "chikumeisha" to my taste !
It reaches easily the dai-kan register (3rd octave) and its pretty big holes (12 to 13mm !) which might disappoint thin hands enable easier meri fingerings.
Aged japanese madake – two pieces (nakatsugikan)
7 nodes – shaved roots (kezurine)
Length : 542mm Weight : 406g
utaguchi diameter : ext: 39mm int: 20.5mm
root end diameter : ext: 47mm int: 21mm
kinko inlay – black urushi lacquer
Listen :
and also :