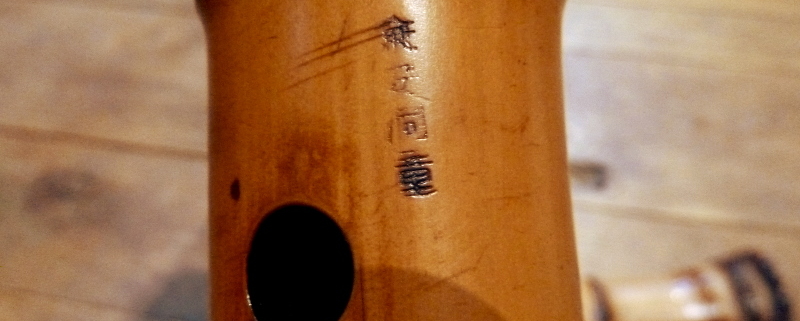 Antique 1.8 kinko ji-ari shakuhachi in D – "Kaneyasu Dodo" – Restored by Chikudo

Here is a great masterpiece shakuhachi quite unique.
It is a Kinko ji-ari shakuhachi made probably in the 1930s by Kaneyasu Dodo 兼安洞童 founder of the school Dainihon Chikudo Gakkan 大日本竹道学館 (read the article about him).
Made from a gorgeous piece of thick madake with a beautiful dark patina due to the age, this shakuhachi has been repaired several times and I added my personal contribution with new rattan inlaid bindings and repairs of damages in the bore.
It is signed with two different Hanko, one of the maker and the other of the school.
It is an advanced level ji-ari. My teacher Gunnar Jinmei Linder could try it. Its tone colour is delightful but it's the kind of flute you need time to meet with, it reveals its potential after a while…
It's only default is that Otsu no Ro is not very stable if you push it to the extreme.
Kinko Ji-ari Shakuhachi
Japanese Madake – 2 pieces Nakatsugi-kan – 7 nodes
Length :  545 mm
Weight :  548 g (!)
Diameter at utaguchi  : int : 21.5 mm – ext : 41 mm
Diameter at foot : int : 17 mm – ext : 66 mm
Holes diameter : 11 mm
Kinko horn inlay
3 staples – 3 former bindings – 4 new inlaid rattan bindings
Rattan rings – Black Urushi lacquer
Sold with utaguchi cap

Listen :