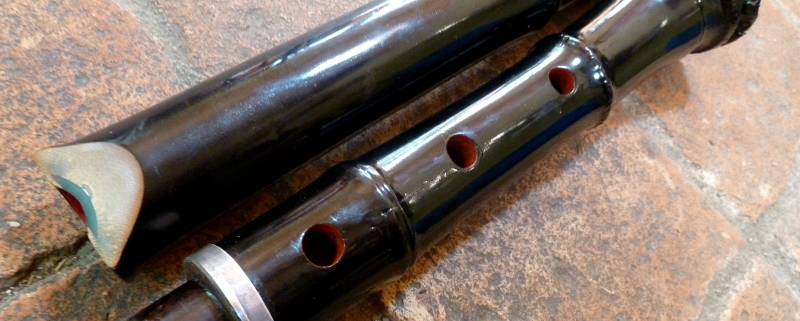 Tozan Ji-ari Shakuhachi lacquered in black 1.8 in D – "Mumei"

'Black Beauty'
This Tozan Ji-ari doesn't seem so old; it is completely coated with black shiny urushi (which was quite common during Edo period when Komuso were travelling with their flute).
This shakuhachi is very dynamic with an excellent response and bright and stable tone colour. A very good flute made from a thick and dense piece of Japanese Madake.
I own this instrument for a few months now and was wondering of binding it or not (the upper part had several cracks already repaired with glue). The cracks hasn't moved since then; I don't know if this shakuhachi has been lacquered when new or during the repair process.
If I had decided to restore it, I would have done invisble bindings inlaid and covered with ji before coating again with black urushi; quite a long task !
As I have several other flutes on the workbench, and not a full time available now, I decided to sell it as it is for a much cheaper price with a 1 year warrantee.
Tozan ji-ari Shakuhachi
Japanese Madake – 2 pieces – 7 nodes
Length :  540 mm
Weight:  475 g
diameter at utaguchi  : int : 21 mm – ext : 41 mm
diameter at foot : int : 17 mm – ext : 62 mm
holes diameter : 10.5 mm
Tozan horn inlay
Silver rings
Red urushi lacquer in the bore

Listen :