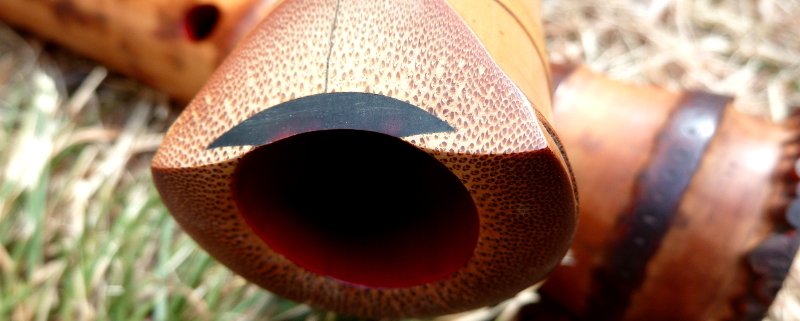 Ji-Ari Tozan 1.8 Shakuhachi in D – Professional level – signed "Minchu" – Japanese Madake

This shakuhachi is sold by Olivier from the Chikumeisha France group who played it since 2020; it has a reasonable price regarding its quality.
Here is a great concert ji-ari shakuhachi very typical of Tozan taste of sound (thin bore with big volume and very bright tone).
The Hanko signature written in tensho style means "MinChu"; I don't have any informations on the maker but a cut second hanko starts with the kanji "Chiku" in the same style as the great Tamai Chikusen hanko (and regarding the quality of this shakuhachi it could be). Could think about a Chikusen flute repaired by a Minchu maker (surprisingly not respectful) marking his own hanko on it… why not ?!
The Madake bambou is very nice and harmonious with pleasant dark spots, thick and dense; very nice to hold in hands. This shakuhachi was split in its upper half and repaired with traditional rattan bindings.
It is an excellent player perfectly responding, straight and powerful; an excellent shakuhachi for an advanced player (or a wealthy beginner !) suiting both ensemble, contemporary or traditional, and solo playing.
This shakuhachi has been evaluated by Christophe Kazan Gaston, Fonder of Chikumeisha France with Gunnar Jimei Linder and Shihan master of Shin Tozan school.
Sold with a caring bag from dark purple velvet with plastic inside for crack prevention and utaguchi cap.
Ji-ari Tozan Shakuhachi
Japanese Madake – 2 pieces Nakatsugi-kan – 7 nodes
Length :  543 mm ( shaku)
Weight :  417 gr
diameter at utaguchi : int : 20.5 mm – ext : 38 mm
diameter at foot : int : 18.5 mm – ext : 55 mm
Holes diameter : 11 mm
Tozan inlay – 6 rattan bindings
Red urushi lacquered bore
Silver and plastic rings

Listen :